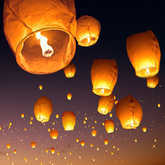 This Week's Astrology: Seeing Things in a New Light
Your weekly Astrology highlights for August 28 - September 3, 2017

This week you'll want to take a second look at a choice you made -- but about what? Here's what you need to know...
Thursday, August 31: Mercury enters Leo
Mercury is still retrograde as the week begins, but he'll change costumes moving from Virgo into Leo for the rest of his retrograde. Until September 5, the remaining lessons around Mercury will focus more on re-evaluating the decisions you've made around a creative endeavor or in your love life.
Saturday, September 2: Mars trine Uranus
Mars will trine Uranus on Sunday, allowing the most innovative and exciting energy to burst forward. You might have a true awakening on this day and be able to successfully launch one of your most ingenious plans.
Sunday, September 3: Mercury conjunct Mars
On Sunday, Mercury -- still retrograde -- will connect to Mars (also in Leo). This could be a rough day where you communicate too passionately about something and become angry. Consider whether or not this anger is rooted in the fact that you're still living with outmoded ideas or thoughts from the past. These thoughts are not going to take you to your future.
Understand where your past is leading you now with a personal Timeline Tarot Reading »