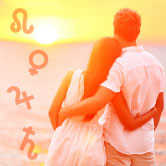 Weekly Astrology: Aug. 3-9, 2015
A romantic embrace

This week begins with a reality check! Read on to see how...
Monday, August 3: Jupiter in Leo square Saturn in Scorpio
Jupiter will square off with Saturn on Monday, attempting to lighten up Saturn in Scorpio's intensity. Unfortunately, Jupiter in Leo probably won't win this battle, but she might help Saturn lighten up just enough for you to deal with an insurance or financial matter less painfully.
Make sense of the present moment -- gain the clarity you need now with a Life Cycle Tarot reading.
Tuesday, August 4: Venus Retrograde conjunct Jupiter
Love is the name of the game on Tuesday, as Venus and Jupiter connect in a romantic embrace. Venus is traveling retrograde, so you and someone special might have an opportunity to repeat doing something together that you enjoyed in the past.
Wednesday, August 5: Venus Retrograde square Saturn
Have fun while you can! On Wednesday, Venus will square off with Saturn, throwing a wet blanket on everyone's love affair.
Thursday, August 6: Mars in Cancer trine Saturn; Mercury conjunct Venus Retrograde; Mercury square Saturn
Then, on Thursday, Mars in Cancer will trine Saturn. You'll have the ability to use concentrated energy to complete a task at home or to tackle a family problem with incredible shrewdness. Mercury will conjunct Venus and square Saturn, helping you to communicate information tactfully and authoritatively.
Friday, August 7: Mercury conjunct Jupiter; Mercury enters Virgo
On Friday, Mercury will be conjunct Jupiter before entering discerning Virgo. If you can sign a contract or schedule important meetings before 3:00 pm EDT, you'll have a wonderful edge with that Mercury-Jupiter connection. After Mercury moves into Virgo, your mind will focus more on the problems in life and how to fix them.
Saturday, August 8: Mars enters Leo
Last but not least, on Saturday, Mars will enter Leo where he'll remain until September 24. You'll feel extra motivated to live life to the fullest whenever possible. What's more is that you'll move whatever mountains you need to in order to make that happen!
See how the present moment impacts the bigger picture of your life now with a Life Cycle Tarot reading »