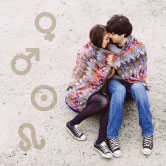 Weekly Astrology: August 31 - September 6, 2015
Lovers rejoice!

The week may start out fuzzy but it'll end strong so hang in there ... and read all about it!
Monday, August 31: Sun opposite Neptune
On Monday the Sun will oppose Neptune, leaving a nebulous haze all around you and your sense of vitality. It might be difficult to get anything of substance off the ground since circumstances beyond your control might get in the way. Another possibility is that you'll simply lack the "oomph" you need to make things happen. This will be a day better suited to imaginative pursuits if at all possible.
Tuesday, September 1: Venus Retrograde conjunct Mars
On Tuesday, Venus will conjunct Mars in a heated embrace. Venus is flirting, and since she's still retrograde she might even tease Mars a little too much. Whatever happens in your love life on this day will be hauntingly familiar ... but oh so exciting!
Saturday, September 5: Sun trine Pluto
The Sun will trine Pluto on Saturday, and finally you'll be in a position to make things happen. Instead of aimlessly floating around like you were on Monday, you'll feel a surge of power giving you all the determination you need to succeed. If you have anything important going on this weekend, you can be sure that you'll make a strong impression and no one will doubt your command!
Sunday, September 6: Venus Direct in Leo
The best part of the week however, is saved for Sunday when Venus turns direct after having been retrograde since July 25. Lovers everywhere will rejoice!
Look forward as Venus turns direct! See where your relationship is headed with a Relationship Potentials Tarot reading »
Now watch YOUR zodiac sign's Weekly Horoscope Video!