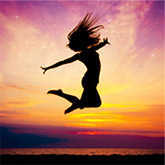 Weekly Astrology: August 5-11, 2013
Live out loud, it's the best week of summer!

Nothing says "summer fun" quite like a New Moon in Leo! With this lunation, the best of summer is about to be lived ... loudly! Expect romance, entertainment and plenty of drama. If there's ever a time to think you're "all that," this week is it. Enjoy the adulation.
See what's in store for you personally with a 30-Day Astrology Forecast, and here's the lowdown on the key cosmic events the week of August 5-11, 2013.
Tuesday, August 6: New Moon in Leo
The best part of Tuesday's New Moon in Leo is that it will be beautifully aspected in the sky. Far enough away from Saturn to ensure he can't water down Leo's party, this lunation will also make a gorgeous link to Uranus -- the planet of surprise and revolution. When it comes to the pursuit of pleasure, thinking outside the box will surely reap the greatest rewards. Lean past your comfort zone with confidence now and explore a new hobby that is original.
You'll also have plenty of support in the romance department because love is Leo's specialty. If single, consider online dating because the promising link between the New Moon and technology-oriented Uranus will help support this type of love connection. You might also find yourself suddenly and wildly attracted to someone who is typically not your type. Be open to the possibilities!
Wednesday, August 7: Jupiter opposite Pluto
On Wednesday, we'll have a rare and potent connection between Jupiter and Pluto. When these planets are linked up there's an expansive and massive potential to rise to power. Jupiter-Pluto connections have been dubbed the "billionaire's aspect," and with good reason. This connection assumes major clout -- an ability to influence others on a global level. Jupiter, the greater benefic, will have his potential intensified by Pluto.
You might want to pay attention to world events around mid-week, because there's potential for a significant announcement in the business/real estate world or with a wealthy and powerful individual or conglomerate. On a personal level, you might find there's a swift power struggle in your world most likely between home (Jupiter in Cancer) and career matters (Pluto in Capricorn).
Thursday, August 8: Mercury in Leo
On Thursday, you'll begin to communicate with more flair, thanks to Mercury's ingress into flamboyant Leo. With Mercury in Leo until August 23, you might find a tendency to use words with more color and panache. Your ability to tell tales that rivet your audience will also be magnified now. Use it well.
Also with Mercury in Leo, our communication will be more regal and our egos more likely to feel bruised if our words are not appreciated and treated with respect. Unfortunately, this tendency can really take a turn for the worse by Saturday, when Mercury will be at a tense square to Saturn.
Saturday, August 10: Mercury square Saturn
On Saturday, it might feel as if no one understands your brilliant ideas, much less supports them. If you run into conflict with an authority figure on this day or hit a brick wall when it comes to making a vital decision, you might want to sit tight and wait it out. Don't push the issue, because you're likely to feel mentally exhausted and deflated. Instead, wait until the following week. Mercury will be much happier and freer to express his best when Saturn leaves the building.
Watch your Insightful Astrology Weekly Video Horoscope now »