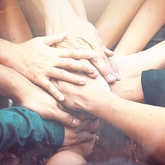 This Week's Astrology: Doing Your Part
Your weekly Astrology highlights for August 7-13

Reflection, romance, and a retrograde, oh my! Keep reading to see what's coming your way -- and when to expect it.
Monday, August 7: Lunar Eclipse in Aquarius
A Lunar Eclipse in Aquarius this Monday will bring to light exactly what your contributions to society have been up until now. Are they relevant? Do they even exist? Your role in your community and with your social groups will be completely illuminated now. If you're not already making a difference, you'll want to make a change.
Thursday, August 10: Mercury sextile Venus; Sun sextile Jupiter
On Thursday, Mercury in Virgo will be at a gorgeous angle to Venus in Cancer, while the Sun will sextile Jupiter. Expect a fantastic day in romantic and financial matters. You'll feel optimistic and benevolent.
Saturday, August 12: Venus trine Neptune; Mercury Retrograde in Virgo
It gets even better on Saturday when Venus trines Neptune. Spiritual and romantic connections reign, and your creativity may be at an all-time high. However, on the same day, Mercury will turn retrograde in Virgo. Until September 5, it'll be wise to think before you speak and avoid any major assumptions about what anyone else has to say.
Sunday, August 13: Sun trine Saturn
The week ends on a positive note. The Sun will trine Saturn on Sunday, helping you make strides in any personal endeavor that requires commitment and discipline.
See how all this heightened energy can impact your future with a personal Timeline Tarot Reading now!