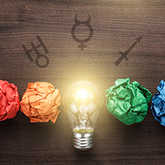 Weekly Astrology: December 1-7, 2014
Here comes your moment of pure genius!

Expect a week of high spirits and focused energy! See what's in store for you personally with a Horoscope Tarot reading, and here's the lowdown on the key cosmic events the week of Dec. 1-7, 2014.
Monday, Dec. 1: Mars in Capricorn sextile Saturn
On Monday, Mars will be at a friendly sextile to Saturn, helping you push ahead in your long-term goals, career or otherwise. A steady stream of disciplined energy will be at your disposal, so use it well.
Thursday, Dec. 4: Venus in Sagittarius trine Jupiter; Sun in Sagittarius trine Uranus; Mars in Aquarius
On Thursday, love is in the air! Venus will be trine Jupiter, allowing open hearts and indulgent moments to fly. The Sun will also be trine Uranus, supporting everyone to express their most unique self. Also, Mars will enter Aquarius on this day, and it will remain there until Jan. 12, 2015. You'll be motivated to experiment more and express your quirky side.
Friday, Dec. 5: Mercury in Sagittarius trine Uranus
On Friday, Mercury will trine Uranus, offering a "eureka" moment of pure genius.
Saturday, Dec. 6: Full Moon in Gemini
Then, on Saturday, a Full Moon in clever Gemini might help you put the finishing touches on a communications-related assignment. Either way, you'll have an ability to convey your emotions with a dose of rationality.
Get more personal advice about life and love with a Horoscope Tarot reading »