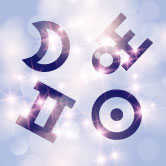 Weekly Astrology: December 12-18, 2016
Shining brightly

This week is quite simple in the cosmic sky, but that doesn't mean it won't pack a punch. Fortunately, it appears to be doing so in a way that will help you move forward in the most positive way! Find out what's planned for you...
Monday, December 12: Sun trine Uranus
On Monday, the Sun will be at a brilliant trine to Uranus. This will help you feel alive and ready to take on the world. You will want to express the part of your identity that is most unique, and the good news is that you'll be wholeheartedly supported as you do this.
Tuesday, December 13: Full Moon in Gemini
A Full Moon in Gemini on Tuesday promises communication illumination. This might be a time where you're finalizing a vital decision, negotiation, or contract. You might also put the finishing touches on a writing project, or give a speech or presentation that is unforgettable.
Get more detailed advice for this week with a Weekly Forecast Tarot reading now »