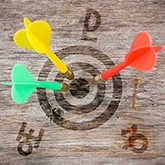 Weekly Astrology: December 15-21, 2014
Brace yourself for a direct hit from the cosmos this week!

Get ready for pandemonium! This week hosts the sixth of seven Uranus-Pluto squares to wreak havoc in our lives since 2012.
Find out what this means and see what's in store for you personally with a Weekly Forecast Tarot reading, and here's the lowdown on the key cosmic events the week of Dec. 15-21, 2014.
Monday, Dec. 15: Uranus square Pluto
On Monday, Uranus will square off with Pluto, and if you have any personal planets or angles in your chart in mid-degree Cardinal signs, you're about to get a direct hit. Change is inevitable with Uranus square Pluto, and it's not going to be comfortable. Buckle up!
Tuesday, Dec.16: Mercury in Capricorn
On Tuesday, Mercury will enter Capricorn, where he'll remain until Jan. 4, 2015. Thoughts become practical and business-oriented. You can do a great deal with a sound mind. On Saturday, Mercury will be at a friendly sextile to Neptune, allowing you to infuse your rationality with a dose of imagination. Perfect!
Saturday, Dec. 20: Mercury sextile Neptune; Venus square Uranus; Venus conjunct Pluto; Mars sextile Uranus
Romantic matters will not be comfortable this week. Venus will square Uranus and conjunct Pluto on Saturday, ensuring that whatever you think you know about your relationship … you don't. Fortunately, with Mars sextile Uranus on the same day, your reaction time to any tense events in the love department will assure that you land on your feet. Uranus stationing direct on Sunday will help you move past the chaos … or be comfortable in it.
Sunday, Dec. 21: New Moon in Capricorn and Uranus Retrograde
A New Moon in Capricorn on Sunday sets the stage for opportunity. Plant seeds now that you'll nurture in order to help you maximize your professional goals.
See what's in store for you personally with a Weekly Forecast Tarot reading now »