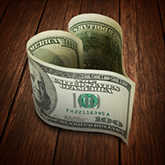 Weekly Astrology: Dec. 16-22, 2013
Capricorn puts a serious spin on love and money this week

This week you'll have a lot on your mind, on your nerves and plenty wearing on your heart. Here's the lowdown on the key cosmic events the week of Dec. 16-22, 2013.
See what's in store for you personally with a custom 30-Day Astrology Forecast.
Tuesday, Dec. 17: Full Moon in Gemini and Uranus Direct
On Tuesday morning, a Full Moon in Gemini will allow you to bring completion to a major idea, writing project or learning endeavor. If you're in the midst of negotiating a contract or other deal, the days following this lunation will likely help you get things wrapped up.
Gemini requires intellectual stimulation. This sign is always curious and does tend to be scattered because there are so many interests and so little time to act on them. If you feel mentally frazzled on Tuesday, it's a signal to give yourself a break.
There is such a thing as too many words and thoughts may be racing through your mind at warp speed, not allowing you any time to relax.
This is especially true thanks to the fact that Uranus will turn direct on the same day as the Full Moon. There may be a strong urge to rebel against an idea, a set of rules or a communications-related project you're trying so hard to complete. Don't sabotage yourself!
Saturday, Dec. 21: Sun in Capricorn and Venus Retrograde in Capricorn
The Sun enters Capricorn on Saturday, the Winter Solstice, and for the next month a light will shine on our ambition and professional goals. Plan on revising your approach to them, though, because Venus will turn retrograde in Capricorn on Saturday, too.
You may reassess the way you earn money from your career path and how you monetize (or don't monetize) your talents. The bigger picture about this impending Venus retrograde phase, which lasts until Jan. 31, 2014, is that it's time for everyone to get serious about love, money and self-worth matters.
In Capricorn, it's time to take responsibility for your love life, your financial life and how you feel about yourself from the inside out. The more "unbeautiful" you feel, the more work you'll have ahead.
Don't forget to look at your month ahead with a personal 30-Day Astrology Forecast »