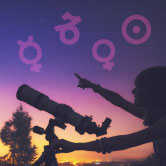 Weekly Astrology: December 19-25, 2016
Seeing through a different lens

It's all about the business side of life this week! Thanks to a planetary push, you'll be looking at existing situations in new ways. See what you can expect...
Monday, December 19: Mars enters Pisces; Mercury Retrograde
Mars, the planet of assertive drive, moves into the most passive sign of all on Monday: Pisces. He remains here until January 29, forcing everyone to take a different approach to action. Peaceful warrior, anyone? Mercury also turns retrograde in Capricorn on the same day, and won't turn direct until January 8. Communication about business matters, your personal authority, and goals might need revising during this time.
Look forward to love in the New Year -- get your your personalized 1-Year Love Forecast for 2017 now!
Wednesday, December 21: Winter Solstice; Sun enters Capricorn
Fortunately, the Sun enters Capricorn on Wednesday, the Winter Solstice, helping to shine a light of attention on these very matters mentioned above.
Saturday, December 24: Saturn trine Uranus
Saturn will trine Uranus on Saturday, allowing you to take an innovative approach to handling your responsibilities.
Sunday, December 25: Venus trine Jupiter; Venus sextile Uranus; Venus sextile Saturn
Then, on Sunday, Venus does a happy dance. She will beautifully aspect Jupiter, Saturn, and Uranus all at once, helping everyone to feel the love and spread holiday cheer!