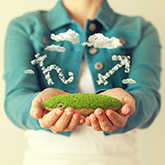 Weekly Astrology: December 22-28, 2014
It's time to "get real" as Saturn switches signs

This week packs a karmic punch, thanks to Saturn changing signs. You'll need to tackle edgy communication vibes this week!
See what's in store for you personally with a Horoscope Tarot reading, and here's the lowdown on the key cosmic events the week of Dec. 22-28, 2014.
Tuesday, Dec. 23: Saturn in Sagittarius
On Tuesday, Saturn, the planet of limitation, lessons and responsibility -- the great karmic taskmaster -- will change signs, moving out of Scorpio and into Sagittarius. Sagittarius is a sign concerned with expansion and hope, while Saturn is a curmudgeon of a planet. So how will Saturn feel wearing the cloak of Sagittarius until late 2017? Strange indeed.
For starters, Saturn in Sagittarius will likely restrict your buoyant, optimistic outlook, and help you become more realistic about all of those positive thoughts. The law of attraction? Ha! How about the law of hard knocks and common sense? That's what Saturn in Sagittarius will be all about.
Saturn in Sagittarius will demand that you build a solid foundation around realistic beliefs, and that you'll also be willing to back up your pie-in-the-sky ideas with proof. The good news is that by the time he finishes up his tour of Sagittarius, you'll have a remarkable ability to reach for the sky while still managing to keep both feet firmly on the ground.
Wednesday, Thursday and Friday Dec. 24-26: Mercury square Uranus
On Wednesday, Mercury in Capricorn will square off with Uranus, and on Thursday he'll conjunct Pluto. Communication will be erratic and intense. Then, on Friday there's a glimmer of hope. The Sun in Capricorn will sextile Neptune. You can use your imagination without feeling like you've gone mad.
See what's in store for you personally with a Horoscope Tarot reading now »
Get more personal advice about life and love with a Horoscope Tarot reading »