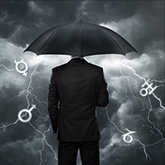 Weekly Astrology: Dec. 23-29, 2013
Prepare for stormy cosmic weather this holiday week

There's plenty of Mercurial activity this holiday week, along with a dose of erratic energy. Choose your words carefully, and be even more cautious about your actions.
See what's in store for you personally with a 30-Day Astrology Forecast, and here's the lowdown on the key cosmic events the week of Dec. 23-29, 2013.
Tuesday, Dec. 24: Mercury in Capricorn and Sun sextile Neptune
On Tuesday, Mercury will enter Capricorn, where he'll remain until Jan. 11, 2014. During this time, you'll have the mindset of a CEO, so use it well. Organize and strategize your thoughts and ideas. Delegate tasks so you can save your mental stamina for what really matters. And have conversations with your elders or authority figures you respect. They will benefit you!
Also on Tuesday, the Sun in Capricorn will be at a gorgeous link to Neptune in Pisces, allowing you to see the best in others. Use this day to have a meeting with a VIP about a career goal or a major move you want to make in life to help elevate your status and achieve a dream. You'll be one step closer to materializing it!
Wednesday, Dec. 25: Mars in Libra opposite Uranus in Aries
The cosmic weather gets stormy this Christmas day, as Mars in Libra opposes Uranus in Aries. This combination of Mars and Uranus is notorious for slip-ups and careless energy. Accidents are possible, and because it's an opposition aspect someone else might be responsible for your mishap.
Be aware of your surroundings and pay close attention to the recklessness of anyone in your environment on Wednesday. You don't need to pay the price for their negligence!
Thursday, Dec. 26: Mercury in Capricorn sextile Neptune in Pisces
On Thursday, Mercury will be at a supportive angle to Neptune, and if you're in the creative industry you'll have an easy time getting your work to flow. A spiritual awakening is also possible with this aspect, so be sure to pay attention to your dreams and other moments of precognitive insight.
Sunday, Dec. 29: Mercury square Uranus in Aries
By Sunday, Mercury will not be in a happy place. He'll square off with Uranus, and it's possible that you'll need to curb your mouth. Think before you speak lest you convey information you later regret revealing to someone.
You may also have a smart-aleck mouth now, or you might be confrontational with your words. Remember one word on this day: Tact.
Don't forget to look at your month ahead with a personal 30-Day Astrology Forecast »