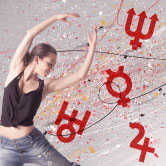 Weekly Astrology: December 26, 2016 - January 1, 2017
Get a piece of the action

This week is busy and sometimes chaotic, but it's also filled with extraordinary potential for self-reflection and moving mountains. Keep reading to see how you can use this momentum to make things happen...
Monday, December 26: Mercury sextile Neptune; Jupiter opposite Uranus
On Monday, Mercury, now retrograde, will sextile Neptune. You'll have an opportunity to revamp a creative writing project or imaginative pursuit. On the same day, Jupiter will oppose Uranus, prompting a lucky break in a certain area of your life. It'll involve a key relationship, so be open to the possibilities.
Discover all that 2017 holds for YOU! Get personalized predictions for the whole year in your 1-Year Astrology Forecast.
Tuesday, December 27: Sun sextile Mars
The Sun will sextile Mars on Tuesday, helping you keep your energy level high.
Wednesday, December 28: Sun conjunct Mercury; Mercury sextile Mars
Your mental alertness is on point on Wednesday thanks to the Sun conjunct Mercury Retrograde while Mercury is sextile Mars.
Thursday, December 29: New Moon in Capricorn; Uranus Direct
By Thursday, a New Moon in Capricorn will prompt you to set your intentions for goals in your immediate future. Set those New Year's resolutions early! Uranus turns direct on the same day so energy might be exciting and unsteady all at once.
Friday, December 30: Sun sextile Neptune
The Sun will sextile Neptune on Friday so you can expect support for your dreams.
Sunday, January 1: Mars conjunct Neptune
On Sunday, Mars conjunct Neptune promises action to help you make at least one of those dreams come true.
Get personalized predictions for 2017 now with your 1-Year Astrology Forecast »