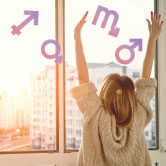 Weekly Astrology: Dec. 28, 2015 - Jan. 3, 2016
Intense energy

This is a BUSY week in the sky thanks to three planets changing signs. Check it out...
Tuesday, December 29: Sun sextile Neptune; Mercury in Capricorn square Mars in Libra
On this day, the Sun will sextile Neptune while Mercury will square off with Mars. Essentially, you'll feel inspired to pursue your dreams but somehow won't be able to communicate them to others without aggravating them or yourself in the process. The solution appears to quietly do your thing and avoid the dialogue altogether.
See what's coming YOUR way in 2016 with a personalized 1-Year Astrology Forecast »
Wednesday, December 30: Venus enters Sagittarius (until January 23)
Then on Wednesday, Venus will enter Sagittarius where she'll remain until January 23. During this time, matters of the heart become more adventurous and high spirited. You may also focus more on exploring your differences with your partner rather than what you share in common. This is the sweet spot in your relationship after all because it's where you can grow. Now, you're willing and able to embrace it.
Friday, January 1: Mercury enters Aquarius (goes Rx on January 5)
On Friday, Mercury enters Aquarius helping you communicate your zany innovative ideas. Or so you would think. The problem is that next week on January 5, he'll turn retrograde. So even though he's moved into Aquarius, he's not feeling very strong. Batten down the hatches and back up your computers in order to prepare for that retrograde crash coming very soon!
Sunday, January 3: Mars enters Scorpio (until March 5)
Finally, the major news happens with Mars. On Sunday, he'll enter Scorpio where he'll remain until March 5. During this time you may find yourself motivated to go deeper than you usually do -- in just about every facet of life. You'll want to investigate, research and not take anything at face value. You'll also feel a more intense and passionate sex drive and might even feel more possessive or obsessive about your lover than usual. As long as it doesn't turn into fatal attraction (not likely with the happy aspects Mars will make) you're in for a treat. Cosmic sex, anyone?
See what's coming YOUR way in 2016 with a personalized 1-Year Astrology Forecast »
Watch your sign's Weekly Horoscope Video for more insight into the week...