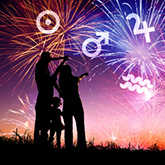 Weekly Astrology: December 29, 2014 to January 4, 2015
The new year begins with a cosmic bang!

New Year's Day of 2015 kicks off with a big bang that will resound throughout the week. See what's in store for you personally with a Horoscope Tarot reading, and here's the lowdown on the key cosmic events the week of Dec. 29, 2014 to Jan. 4, 2015.
Thursday, Jan. 1: Mars opposite Jupiter
On the very first day of 2015, Mars in Aquarius will oppose Jupiter. This is larger-than-life energy at its fullest! You have the potential to overdo it because you may feel as if nothing can stop you, but because it's the first day of the New Year, go on -- full steam ahead!
Saturday, Jan. 3: Sun square Uranus; Sun conjunct Pluto; Venus in Aquarius
On Saturday, there's tension. The Sun in Capricorn will square off with Uranus and conjunct Pluto, which may ignite power struggles. If you're frustrated about not being true to your most authentic self, this day will be most difficult. Remember, no one else is responsible for your life. Attempts to manipulate or control others in order to make yourself feel powerful will only backfire.
Also on Saturday, love planet Venus enters Aquarius, where she'll remain until January 27. Romance without friendship becomes impossible -- an alien thought, even. You might also notice that you and those around you enjoy more personal space in the context of social relationships. It's all good.
Sunday, Jan. 4: Full Moon in Cancer; Venus sextile Saturn; Mercury in Aquarius
On Sunday, Venus will sextile Saturn, assuring that if you give your lover enough breathing room, he or she will always come back.
Also on Sunday, a Full Moon in Cancer will highlight emotional family matters. If there's a touchy domestic situation you'll need to handle it with care. Mercury will enter Aquarius on this day, as well. Your inventive mind will be on fire.
Get more personal advice about life and love with a Horoscope Tarot reading »