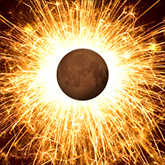 Weekly Astrology: Dec. 30, 2013 to Jan. 5, 2014
2014 begins with a dramatic New Year's New Moon

Talk about starting the New Year with a bang! This week's Astrology will be anything but quiet, as intense conversations and power struggles create plenty of drama.
Find out what's likely to happen in your near future with a Timeline Tarot reading, and here's the lowdown on the key cosmic events the week of Dec. 30, 3013 to Jan. 5, 2014.
Monday, Dec. 30: Mars in Libra square Pluto in Capricorn
Mars in Libra will square off with Pluto in Capricorn on Monday, prompting angry confrontations and power struggles as we wind down 2013. Don't get caught up in the drama if at all possible -- instead, focus on your positive intentions for the New Year.
Tuesday, Dec. 31: Mercury conjunct Pluto and square Mars
On Tuesday, when Mercury in Capricorn is conjunct Pluto and square Mars, the fires from Monday are only going to be fanned. It's one thing to speak honestly and openly, but it's quite another to speak with cruelty or in a way that truly hurts others. Intense conversations are likely but they may quickly escalate into arguments.
Wednesday, Jan. 1: New Moon in Capricorn and Sun conjunct Pluto
Happy New Year on Wednesday, and Happy New Moon in Capricorn! 2014 will start off with plenty of fanfare, thanks to a highly stressed lunation in Capricorn. You might feel ready for a major change in your personal or professional world, but you'll notice heavy resistance from others as you declare it.
If you're serious about these changes, then don't allow anything or anyone to get in your way. With the Sun conjunct Pluto on Wednesday, that's not likely to happen. Still, try to remember that what others think of you is none of your business. Yes, your reputation and status may be important to you, but you can't control other people's perceptions and opinions. This isn't the day to try -- you'll only end up frustrated.
Thursday, Jan. 2: Sun square Mars
On Thursday, the Sun in Capricorn will square Mars, and it's possible you'll continue along this path of acting against yourself and your best interests. Remember that the definition of insanity is doing the same thing over and over, expecting different results. This will be a good day to stop doing altogether and take a step back for a breather and an opportunity to gain perspective.
Friday, Jan. 3: Mercury opposite Jupiter
Between Friday and Sunday, Mercury and the Sun will both oppose Jupiter. Your faith will bounce back and it'll be time to get to work on those New Year's resolutions. Go ahead -- climb any mountain. Just don't forget to pack your hiking gear.
Don't forget to look at your near future with a Timeline Tarot reading now »