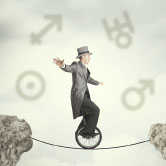 Weekly Astrology: December 7-13, 2015
Week of December 7-13: One crazy ride

The week begins and ends on a positive note with a little bit of chaos thrown in between. Ready, set, go!
Tuesday, December 8: Sun trine Uranus
On Tuesday, the Sun will be at a gorgeous trine to Uranus, allowing you to express the very best of your zany self to the world in a way that's sure to be supported. Go ahead and initiate whatever strange venture you've got up your sleeve!
Get your own guidance for this week with a Horoscope Tarot reading, combining Tarot with your personal Astrology!
Wednesday, December 9: Mercury enters Capricorn
On Wednesday and until January 1, your mind will focus more on how to take care of business. With Mercury in Capricorn, you'll have an easier time talking to anyone who is in a position of authority. Even if you usually feel intimidated approaching a VIP, Mercury in Capricorn will help you focus more on the practical matters of dialogue than your own personal insecurities. This will be a great time to make progress in any business related negotiation.
Thursday, December 10: Mars opposite Uranus
Life may feel crazy on Thursday when Mars and Uranus are opposite one another, so make sure you buckle up and prepare for an unpredictable ride. This is a classic aspect of accident prone energy caused by rushing or reckless actions. So now that you've been forewarned, remember that this is definitely a day to slow down. Same goes for your temper!
Friday, December 11: New Moon in Sagittarius; Venus trine Neptune
On Friday, life becomes happy again thanks to a New Moon in Sagittarius along with Venus trine Neptune. What is it you want to initiate in your life that can help you expand your horizons? The sky is the limit. Go for it and expect a little fairytale magic to help you!
Get custom guidance now with a Horoscope Tarot reading »
Watch your sign's Weekly Horoscope Video for more insight into the week...