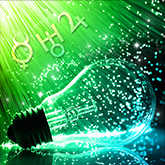 Weekly Astrology: Dec. 9-15, 2013
Dazzle the world with your brilliance this week

It's a quiet week on the cosmic front when you consider the quantity of aspects there are to talk about. Still, don't be fooled -- it's quality that counts. And this week, the quality is superb with nothing but green lights and support.
See what's in store for you personally with a 30-Day Astrology Forecast, and here's the lowdown on the key cosmic events the week of Dec. 9-15, 2013.
Tuesday, Dec. 10: Mercury in Sagittarius trine Uranus in Aries
On Tuesday, Mercury in Sagittarius, the planet of communication and commerce, will be at a brilliant trine to Uranus in Aries, the planet of innovation and originality. This link promises a "Eureka!" moment for all of us in some capacity.
Perhaps you'll finally think up a solution to a problem that's had you stumped for quite a while. You might also shine in a public speaking engagement or dazzle someone with a bright idea or invention.
Also, if you're involved in any type of technological pursuit, such as launching a website or scheduling a webinar, or if you work in the geek field at all, then you can expect a five-star day.
You might even plan a sudden trip, so if you get the urge to visit a travel agent be sure to honor it. Also, do you need to purchase a computer or are you thinking about upgrading your iPhone? Today is the day to do it!
Thursday, Dec. 12: Jupiter trine Saturn
Then, on Thursday, Jupiter in Cancer will be at a trine to Saturn in Scorpio. Wowsers! The planet of expansion, abundance and prosperity unites with the planet of endurance and stability in the most perfect way possible. You can't ask for a better aspect to help you build a solid framework around one of your goals -- especially if it has to do with your domestic life or a real estate pursuit.
This will also be a day you can learn a great deal from the wisdom of your elders. Ask them for advice or schedule time to visit someone you know who might live in a nursing home or elder care facility. Your time together will be mutually enjoyable and beneficial.
One thing's for sure: You will not regret whatever decisions you make this week. Don't be afraid to allow your mind to leap in new and exciting directions!
Don't forget to look at your month ahead with a personal 30-Day Astrology Forecast »