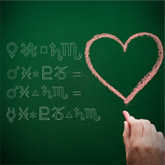 Weekly Astrology Overview, Feb. 11-17
February 11-17, 2013: Work It Out

Tense planetary aspects early this week may put a damper on our collective mood, but if we can buckle down and work our way through it we'll be in a better place by Tuesday and the rest of this sweet Valentine week.
See what's in store for you personally with a 30-Day Astrology Forecast, and here's the lowdown on the key cosmic events the week of February 11 to February 17, 2013.
Monday, February 11: Venus in Aquarius square Saturn in Scorpio
Not feeling the love as you ease into your Valentine's Day week? You can thank Saturn for that. On Monday, Venus will be at a tense angle to Saturn, the planet that likes to limit, restrict and test whatever it touches. You might spend a good part of the day feeling unappreciated by your boss, lover or anyone.
This might be a difficult way to begin the work week -- especially if there's a major project or presentation happening early in the day. Although you shouldn't expect waves of compliments from an authority figure connected to your career, if you can keep your nose to the grindstone you will certainly not lose his or her respect. In fact, a willingness to put in the time to earn your keep is exactly what will impress your boss the most now.
When it comes to love, if you're in a relationship that you feel is a bit lopsided in the division of labor, you might experience more than the usual level of resentment. The only way you can move past this is by realistically assessing the situation together. Because Valentine's Day is near, why not get this out on the table now so you and your sweetheart can enjoy the hearts, flowers and chocolate later in the week?
Alternatively, you might have a difficult time expressing your love for someone out of a fear of rejection, and if so ask yourself "Am I being realistic about this or just silly and insecure?" You'll know the answer.
Tuesday, February 12: Mercury in Pisces sextile Pluto in Capricorn and trine Saturn in Scorpio
Fortunately, by Tuesday we'll take a giant cosmic leap into a happier mindset. Mercury will be at a positive angle to both Pluto and Saturn, making this a five-star day if you need to sign any type of contract, make a speech or presentation or even move forward in a verbal or written negotiation. Be sure to use this day because it is the very last five-star communication day we'll have for a few weeks.
That's right, Mercury Retrograde begins on February 23, and we'll be in the shadow period starting next week. Now that you know this is coming, hopefully you'll make it a point to use and not waste the incredible mental energy on Tuesday!
Friday, February 15: Mars in Pisces sextile Pluto in Capricorn
On Friday, Mars and Pluto will ally to help you achieve something in your life that requires enormous will and determination. These planets, when together, act as the heavy hitters. They are powerful!
Fortunately, the link they'll be in will be a constructive one and you'll have a chance to move ahead in a business or personal plan that requires strategic action and control. You'll feel a firm sense of self-motivation and you will have the fortitude to make anything happen!
In addition to this, Mars and Pluto will add plenty of gas to your libido -- something you will appreciate and benefit from considering this aspect will be in orb of influence the day before, on Valentine's Day. That's right -- expect a night of passion that will lead right into a weekend of even more!
Saturday, February 16: Mars in Pisces trine Saturn in Scorpio
Last, but not least, Mars and Saturn will connect perfectly on Saturday. This will add plenty of stamina and stability to wherever you decide to direct your actions this weekend. You'll have all the discipline and focus you need. Whether you decide to make it a weekend of work or play, with this combination of durable energy, you'll definitely come out ahead of the game.
Watch your Insightful Astrology Weekly Video Horoscope now »