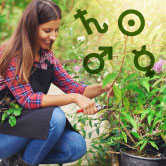 Weekly Astrology: February 13-19, 2017
Fruits of your labor

Your ability to work fast, furiously, and efficiently toward your goals will be incredible this week. You can bring ideas to fruition now, making you virtually unstoppable! Keep reading to find out more...
Tuesday, February 14: Sun sextile Saturn
On Tuesday, the Sun will sextile Saturn, helping you work towards a structured point of view that will help you achieve a humanitarian, group-oriented, or technologically-connected project. You'll work assiduously, and your mind will be at lightning speed.
Thursday, February 16: Mercury sextile Mars
On Thursday, Mercury will sextile Mars, speeding up your thoughts, ideas, and ability to put them into action.
Saturday, February 18: Sun enters Pisces
Then, on Saturday, you may shift gears towards a more imaginative and spiritual perspective. The Sun will enter Pisces, casting a glow of compassion and divine love around everything you do. Despite your worldly goals and the pursuit of them, you'll be reminded that in the end, only kindness matters.
Connect with your greatest strengths now with your personalized Mars Power Report!