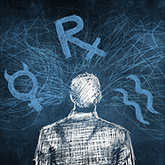 Weekly Astrology: Feb. 16-22, 2014
The definition of insanity is...

Your mental confidence may drop off as the week wears on, thanks to communication struggles involving Mercury Retrograde. But with the Sun moving into dreamy Pisces, you can at least get in touch with your spiritual side.
See what's going to happen in your near future with a Timeline Tarot reading, and here's the lowdown on the key cosmic events the week of Feb. 16-22, 2014.
Sunday, Feb. 16: Mercury Retrograde in Aquarius trine Mars in Libra
On Sunday, you might dwell on the past, but this approach might actually help you take a leap toward the future. If the definition of insanity is doing the same thing over and over and expecting a different result, at least you'll recognize where you've been attempting the same approach in your life while anticipating a dissimilar outcome.
As Mercury moves into an enthusiastic trine to energetic Mars, you might finally have the courage to take your mind out of that old, outworn pattern of thinking that's getting you nowhere real fast. Change your mind, change your outcome. On Sunday you've got the power!
Tuesday, Feb. 18: Sun in Pisces
The Sun enters Pisces on Tuesday, shining a light on everything spiritual, imaginative and intuitive. Your psychic antenna will sharpen up and your compassionate heart will open wide. Now is a great time to do something charitable that will help alleviate someone else's suffering. You might also need to do something more now to nourish your soul. Meditation, yoga and journaling are all favored activities. Or, soak up your favorite art or music.
Wednesday, Feb. 19: Mercury Retrograde in Aquarius square Saturn in Scorpio
Unfortunately, communication blocks may return by Wednesday, as Mercury squares off with stern Saturn. You might lack the mental confidence you had earlier in the week. It's also possible an authority figure in your life will make you second-guess an idea you once believed was absolutely brilliant. Rework this plan, but don't discard it. Remember, genius is always ahead of its time.
See what's going to happen in your near future with a Timeline Tarot reading now »