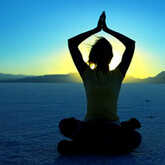 Weekly Astrology Overview Feb. 18-24
February 18-24, 2013: Internal Affairs

Things will grow fuzzy this week as the Sun moves into dreamy Pisces and Mercury turns retrograde in the sign of the fishes with wishes. It's time to turn inward and start thinking about ways to improve yourself and your life!
See what's in store for you personally with a 30-Day Astrology Forecast, and here's the lowdown on the key cosmic events the week of February 18 to February 24, 2013.
Monday, February 18: Sun in Pisces
Happy Birthday Pisces! On Monday the Sun will enter Pisces, and for the next month the rest of the world will take a lesson from this dreamy, spiritual and compassionate sign. Later this week, a gorgeous alignment between the Sun and Neptune will kick your benevolent tendencies into high gear, but first you'll have some business to tend to. Internal business, that is.
Monday, February 18: Saturn Retrograde
On Monday, Saturn, the planet of structure, limitation and responsibility, will turn retrograde until July 8, 2013. The annual Saturn retrograde phase has quite a bit of merit, and constructive use -- if properly understood. So, what does it mean exactly, when Saturn goes into hibernation mode? Are you suddenly free from all duty, karma and obligation? Ha! Fat chance...
The principal of any retrograde planet is that the energy of that planet is turned inward. Over the next several months, the universe is asking you to stop and evaluate your current commitments. Did you bite off more than you can chew? Promise more than you can deliver? Or, are you up for the task but perhaps your strategy needs a bit of polishing so you can become more efficient in your delivery?
Remember, your responsibilities are a direct reflection of your inner authority and personal security. Now is the time to work on that person and show him or her who's really boss!
Thursday, February 21: Sun conjunct Neptune
By Wednesday and into Thursday the sublime connection between the Sun and Neptune will temporarily cloud the practical streak in anyone. This will be a magnificent time to attend a concert, art show or even schedule a photo shoot for business or pleasure. There will be an extraordinary amount of glamour in the air, so be sure to consider how you can use this time to add more allure your world.
Other ideas? Take a meditation or yoga class, or consider a hypnotherapy session. Book a consult with your favorite psychic or astrologer. Go to church. Pray on the beach. Make it a spa day. The more consciously Neptunian you can get on these days, the less chance there will be for the shadow of any Sun-Neptune connection to haunt you.
What's the shadow? Well, any unhealthy form of escapism, like trying your best to forget that your car loan is six months overdue and then convincing yourself that the problem will simply go away. If you try that kind of approach during a strong Neptune transit, you're only going to lose your car and your mind.
There's a fine line between optimism and delusion, and unfortunately Neptune does not know how to draw it. Remember, if anything appears too good to be true, it most likely is. Don't get caught up in any "pie in the sky" scheme on these days -- you might regret it.
Saturday, February 23: Mercury Retrograde in Pisces
Finally, on Saturday Mercury will officially turn retrograde, and it will remain in hibernation mode until March 17. You'll be in that shadow period for most of the week, so you might as well act like it turned retrograde as of Monday.
All the usual Mercury retrograde rules apply now, such as avoid purchasing any big ticket item -- especially electronic. Hold off on signing contracts or making any vital decision until Mercury is back in shape.
This might be a more challenging retrograde cycle if you're a Pisces or have a personal planet or angle near the early to mid-degrees of any mutable sign (Gemini, Virgo, Sagittarius, Pisces).
However, this will be a great time to go back and rework any type of creative project you have hiding on a shelf somewhere. You might feel a strong sense of divine inspiration. Follow it!
Watch your Insightful Astrology Weekly Video Horoscope now »