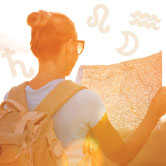 Weekly Astrology: February 2-8, 2015
Follow your own bliss this week!

This week the universe wants to give you unlimited support to be your most original, creative self!
See what's in store for you personally with a Horoscope Tarot reading, and here's the lowdown on the key cosmic events the week of Feb. 2-8, 2015.
Monday, Feb. 2: Sun in Aquarius sextile Uranus
On Monday, the Sun in Aquarius will be at a gorgeous angle to Uranus. This will stimulate your urge for freedom and originality, but you won't come across as overly rebellious. Instead, it'll feel electrifying. Explore an opportunity to do your own thing!
Tuesday, Feb. 3: Full Moon in Leo
Then, on Tuesday, a Full Moon in Leo will bring a new level of illumination to your love life, a creative project, or to your relationship with a child. Your heart is open wide, and you want to give love -- and so you will.
Thursday, Feb. 5: Mercury Retrograde in Aquarius sextile Saturn
On Thursday, Mercury Retrograde in Aquarius, will connect to Saturn, helping you revise an important writing project, speech, or pitch that you have to prepare.
Friday, Feb. 6: Sun opposite Jupiter
Friday's opposition between the Sun and Jupiter provides you with all the confidence you need (and more!) to execute it perfectly.
Sunday, Feb. 8: Venus in Pisces sextile Pluto
Romance dazzles on Sunday, thanks to a dreamy embrace between Venus and Pluto. You can expect to manifest your heart's desire -- nothing stands in your way.
Get more personal advice about life and love with a Horoscope Tarot reading »