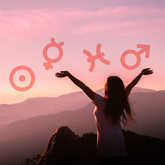 Weekly Astrology: February 20-26, 2017
Rise above it

This week starts off on a promising note, but a dose of disagreeable energy midweek could throw a wrench into the mix. Take the higher road, and you'll be just fine. Continue reading for details about this week...
Get advice for your unique situation now with guidance from a Celtic Cross Tarot Reading.
Monday, February 20: Mercury sextile Uranus;
Tuesday, February 21: Mercury trine Jupiter
Mercury is quite busy this week. He'll be sextile Uranus on Monday, trine Jupiter on Tuesday, and sextile Saturn on Thursday. As a result, this will be a 5-star week to sign a contract, make an important decision, or move forward with any communications related project. Just act before Saturday...
Wednesday, February 22: Mars square Pluto
On Wednesday, Mars will square off with Pluto, adding a dose of cranky energy to the mix. In fact, it may turn into a major temper tantrum if you feel that your personal goals or identity is being thwarted in some way by an authority figure, or even life's obligations.
Saturday, February 25: Mercury enters Pisces
Mercury enters Pisces on Saturday, and your mind will focus more on creative endeavors and spiritual fulfillment.
Sunday, February 26: Solar Eclipse in Pisces; Mars conjunct Uranus
At the Solar Eclipse in Pisces on Sunday, the stakes are high and you are painfully aware that whatever your choices this week, there is a spiritual connection to their consequences. The best course of action? Seek enlightenment.
Mars also conjuncts Uranus on Sunday, and that tantrum from midweek may become quite reckless. This is unpredictable, jolting energy that you can use for innovation or destruction. Choose wisely.