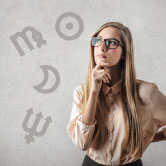 Weekly Astrology: February 22-28, 2016
Let your mind shine

Minds and souls are primed for success this week! See what's coming...
Monday, February 22: Full Moon Virgo
A Full Moon in Virgo on Monday will have you seeing the dust and fine print everywhere you go. Fortunately, this extra dose of discernment will allow you to perfect a project or tackle a difficult problem with analytical precision.
Thursday, February 25: Mercury sextile Saturn
Friday, February 26: Mercury sextile Uranus
Mercury will support Saturn on Thursday and Uranus on Friday, adding to the heightened mental ability for all. This will be a great week to sign an important agreement, make a major decision, or even have that conversation you've been avoiding with "you know who."
Sunday, February 28: Sun conjunct Neptune
On Sunday, the Sun and Neptune link up in a brilliant conjunction. This will allow you to shine a light on whatever stimulates your spirituality, compassion, and imagination most. Dream on!
Use this analytical week to look AHEAD! Move beyond pains from the past with a Self-Healing Analysis Tarot reading today »
Watch your sign's Weekly Horoscope Video for more insight into the week...