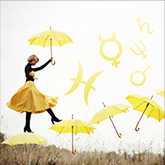 Weekly Astrology: Feb. 23 to March 1, 2014
Your flights of fancy may be grounded this week...

The week begins and ends on a dreamy note, thanks to an abundance of Pisces energy. Sandwiched in between this is Mercury Direct. Ah, dreams are wonderful, but don't expect them to take flight any time soon. That's because no sooner does Mercury turn direct than Mars goes retrograde. Yes, the universe continues to tease us.
See what's in store for you personally with a Weekly Forecast Tarot reading, and here's the lowdown on the key cosmic events the week of Feb. 23 to March 1, 2014.
Sunday, Feb. 23: Sun conjunct Neptune in Pisces
On Sunday, the Sun will embrace Neptune, and you will enjoy a peak day of creativity if you're involved in any artistic, spiritual, musical or glamorous pursuit. This is the day to carve out extra alone time to sooth your soul -- or just sleep late!
Monday, Feb. 24: Venus in Capricorn sextile Saturn in Scorpio
On Monday, Venus in Capricorn and Saturn will be at a friendly angle to each other, which bodes well for business and love. A partnership made on this day will last! However, because Mercury is not quite up to speed yet, you might want to keep it verbal for now. Love might not feel as romantic or lighthearted, but you will certainly feel secure in a relationship now.
Wednesday, Feb. 26: Jupiter in Cancer square Uranus in Aries
By Wednesday you might feel overflowing with optimistic energy, thanks to a link between expansive Jupiter and innovative Uranus. While it's true that you might receive a sudden lucky break, at the same time you might also feel tempted to rush into a risk -- or a revolution -- that's not really worth taking. Slow down and weigh carefully if this once-in-a-lifetime opportunity is extraordinary, or if it's too good to be true.
Friday, Feb. 28: Mercury Direct in Aquarius and Sun in Pisces trine Jupiter in Cancer
In most cases, it'll be "all that" and more. That's because Mercury turns direct on Friday, opening up the door for positive communication again. The Sun in Pisces will be at a gorgeous angle to Jupiter on the same day, lighting up luck no matter where you turn.
Saturday, March 1: New Moon in Pisces and Mars Retrograde in Libra
On Saturday, you might feel ready to plant seeds of faith and inspiration, thanks to a mystical New Moon in sensitive Pisces. Yes, everything in this world begins as a fantasy, but if you don't have the ability to take action then all you have is pixie dust.
Unfortunately, on the same day as this lunation we'll see Mars -- the planet that rules action and energy -- turn retrograde in Libra. Mars will remain napping until May 20, and during this time you'll need to reevaluate at least one close personal relationship. Is it bringing you closer to your dreams, or is it keeping you further away?
See what's in store for you personally with a Weekly Forecast Tarot reading now »