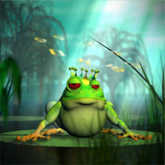 Weekly Astrology: Feb. 25-March 3, 2013
Are you kissing a frog or a prince?

Pay attention to the details this week! There's a lot of disillusionment in the air, especially when it comes to love, but you can harness the energy of the Full Moon in Virgo to stay on course and make sure your prince isn't really a frog.
See what's in store for you personally with a 30-Day Astrology Forecast, and here's the lowdown on the key cosmic events the week of February 25 to March 3, 2013.
Monday, February 25: Full Moon in Virgo
Old habits may die hard, but with the help of Monday's Full Moon in Virgo, you'll have an excellent opportunity to rid yourself of a pattern that no longer does anything to contribute to your physical or spiritual wellbeing. For some, this might be the lunation that prompts you to give up smoking or another not so productive health vice. For others, this Full Moon might be the kick in the pants you need to clean out the clutter in your home or office.
Either way, a Full Moon in Virgo is all about purging in order to achieve purification. Whether you direct this illumination physically or not is up to you.
With a Full Moon in work-oriented Virgo, you might finish up a major project or freelance assignment. Remember, though, with Mercury Retrograde you'll want to double check for errors, and it might take you longer than expected. That's OK -- it'll be worth your effort!
Monday, February 25: Venus in Pisces
When it comes to love, you can expect more enchantment from Monday until March 21. Venus will enter Pisces then, and by Thursday it will embrace Neptune, the planet of spirituality and unconditional love. If you're a Water or Earth sign, expect romance to flow in the most beautiful, tender way.
Of course, for some of you this combination may lead to you kissing more frogs than princes (or princesses). If you doubt your ability to decipher whether or not someone is too good to be true, do yourself a favor and ask a friend. But first, make sure he or she isn't kissing the same frog!
With Mercury retrograde in Pisces, you might want to believe in love so much that you refuse to see the writing on the wall. Still, soul mates arrive and fairy tales do come true when Venus is in Pisces, so if someone special sweeps you away, you might have to just surrender and go with the flow for a bit.
Monday, February 25: Sun in Pisces square Jupiter in Gemini
You might also tend towards excessive optimism on Monday, thanks to a larger than life square between the Sun and Jupiter. This isn't necessarily a bad thing. However, it's possible you'll bite off more than you can chew. Remember your personal limits! The good news, however, is that if you do use the Full Moon energy to rid yourself of a negative habit pattern, you'll have all the confidence in the world to help you stick to your plan.
Tuesday, February 26: Mercury Retrograde conjunct Mars in Pisces
In other news, Mercury Retrograde will conjunct Mars in Pisces on Tuesday. This can result in angry communication over a mysterious misunderstanding with someone. You might not even see it coming and before you know it, you're embroiled in a verbal assault. The positive twist with this link is that you'll walk your talk. Just make sure you know what you're talking about first!
Friday, March 1: Sun in Pisces sextile Pluto in Capricorn and trine Saturn in Scorpio
By Friday, that ephemeral Pisces Sun will enjoy quite a bit of stabilization. Not only will the Sun link up with Pluto in pragmatic Capricorn, but it will also connect to Saturn in Scorpio. This will provide an incredible dose of potency and backbone to the heavy Pisces energy in the sky these days.
With half of the planets in Pisces, there's a temptation to run away from it all and evade real life problems. Thankfully, Pluto and Saturn will help pull the Sun out of "la la land" on Friday. You may find that it becomes the most productive day of the entire week!
Watch your Insightful Astrology Weekly Video Horoscope now »