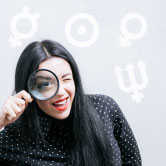 Weekly Astrology: February 27 - March 5, 2017
Taking a closer look

The cosmic energies this week will have you taking a step back, and examining if certain things in your life are working for you. Expect flashes of insight! Read on to see which days are best...
Get the guidance you need now with advice from a Celtic Cross Tarot Reading.
Monday, February 27: Mars opposite Jupiter;
Wednesday, March 1: Sun conjunct Neptune
On Monday, Mars will oppose Jupiter, and on Wednesday the Sun will conjunct Neptune. Be careful not to promise more than you can deliver in your idealistic exuberance. You might really believe you can do something that, in reality, you can't.
Thursday, March 2: Jupiter opposite Uranus
On Thursday, Jupiter will oppose Uranus offering a sudden change in direction connected to a relationship matter. This will feel positive more likely than not -- as if you're breaking free from an unhealthy relationship pattern, or even an unhealthy person in your life.
Saturday, March 4: Venus Retrograde; Mercury conjunct Neptune
On Saturday, the stakes will become even higher in matters of the heart as well as money and individual self-worth. Venus will turn retrograde in Aries, inviting you to reevaluate one or more of the aforementioned areas. Until April 15 she'll hibernate and during this time you may experience a revelation or two.
Saturday might initially feel more confusing however than anything else. Mercury will also collide with Neptune casting a haze over your rational thoughts. This will definitely be a day to dream and not to "do."
Start your Celtic Cross Tarot Reading for a personal outlook on your current life »