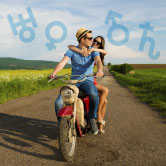 Weekly Astrology: February 29 - March 6, 2016
Who's up for an adventure?

Venus is a happy camper this week so you'll want to do everything possible to make the most of her stellar romantic and financial support!
Monday, February 29: Venus sextile Saturn
On Monday, Venus will be at a friendly sextile to Saturn, adding security and longevity to what you love. Whether this is a relationship or an investment, you can rest easy that it's solid and has the potential to stand the test of time. Just make sure that nothing gets boring or stale.
Get advice and help for any day this week with a Daily Reflection Tarot Reading!
Wednesday, March 2: Venus sextile Uranus
On Wednesday, Venus will sextile Uranus. This adds just enough spice to keep you interested. Financially speaking, this is the ideal week to take a calculated risk thanks, to the unusual balance between Saturn and Uranus to Venus. You're sure to come out ahead.
Saturday, March 5: Mercury square Mars; Mercury enters Pisces; Mars enters Sagittarius
On Saturday communication gets tricky, so you might want to listen more and talk less. Mercury will square Mars, igniting everyone's argumentative side. Then he'll slide into dreamy Pisces, fogging up logic for a bit.
The headline news on Saturday, however, is all about Mars. He'll burst into fiery Sagittarius and leave everyone all fueled up for life's next great adventure. What will yours be?
Sunday, March 6: Sun square Saturn; Sun sextile Pluto
On Sunday, the Sun squares Saturn and sextiles Pluto. Hard work WILL pay off -- so bite the bullet and get to it.
Get advice and help for any day this week with a Daily Reflection Tarot Reading!
Watch your sign's Weekly Horoscope Video for more insight into the week...