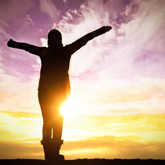 Weekly Astrology Overview, Feb. 4-10
February 4 to February 10, 2013: Pie in the Sky

We're walking on sunshine this week, with opportunities to win big in love and money, and maybe even make our wildest dreams come true!
See what's in store for you personally with a 30-Day Astrology Forecast, and here's the lowdown on the key cosmic events the week of February 4 to February 10, 2013.
Monday, February 4: Mars conjunct Neptune in Pisces
You might start this week feeling as if you're walking on Cloud Nine. Indeed, this Monday there is a beautiful and rare conjunction between action planet Mars and idealistic Neptune, which can be your ticket to manifesting a close, personal dream. If there was ever the perfect aspect for inspired action, this is it!
Be sure to push ahead on one of your most imaginative, spiritual or "pie in the sky" pursuits. The ability to dream is one thing -- that is the domain of Neptune. But the ability to take that dream and make it happen? Well, Mars is the "can do" planet, and in order for a dream to come true, we need Mars to help. Thankfully, you'll have this potential in spades on Monday. Use it or lose it!
Tuesday, February 5: Mercury in Pisces
Not only will you have a strong ability to make any dream come true, but you'll also be able to convey your most imaginative plans to others in an easy, flowing way. On Tuesday, Mercury will enter Pisces, and during the week it will connect beautifully to both Neptune and Mars.
This stellium cluster of Pisces energy will allow you to focus on that dream, but there is a downside. You might come across as a bit of a space cadet! You might be so caught up in your fantasy world that you lose sight of all practical concerns this week. Remember to channel this energy in a spiritual or creative endeavor for the best possible outcome.
Avoid any decision you see as life-changing, unless you have already done your research, crossed your "T's" and dotted your "i's." The reason for this is that with this much idealistic energy in the sky, you might yearn for something so bad that you convince yourself it'll all turn out perfect. Yes, you could be right. However, with three planets in Pisces, you may also have a blind spot.
In order to avoid feeling blindsided in the coming weeks, you'll want to practice due diligence. This will become even more important, because later in the month Mercury will turn retrograde in Pisces. What you overlook now can -- and will -- come back to haunt you!
Wednesday, February 6: Venus in Aquarius sextile Uranus in Aries and Venus in Aquarius trine Jupiter in Gemini
On Wednesday, you can pretty much bank on a five-star day. Life will feel like a luscious hot fudge sundae with extra whipped cream and cherries on top! That's because Venus, the planet of love, harmony and money, will make a brilliant, electrifying link to Uranus. On the same day, Venus will also embrace lucky Jupiter! WOW! If you're an Air sign (Gemini, Libra, Aquarius) or a Fire sign (Aries, Leo, Sagittarius) then you can expect to hit the cosmic jackpot!
If you're single, a chance meeting with someone might instantly captivate you, and even if you're in a relationship you can expect sparks to fly. Also, a financial windfall is a distinct possibility. If this happens, don't spend it all in one place. You might have so much optimism that it causes you to have a glib attitude about indulging in a major expense.
Sunday, February 10: New Moon in Aquarius
Last but not least, on Sunday there is an innovative New Moon in Aquarius that might help you launch an important technology-related endeavor. If you're looking to start a blog, website or even make a YouTube video, success is likely with the support of this lunation. Be proud of your quirky habits or interests and take a shot at developing at least one of them. Aquarius is ahead of its time and has incredible vision -- even when no one else seems to "get it."
Now, you'll have an incredible opportunity to trust your gut and develop your most eccentric idea. You may also join a new group or social organization at this time, and if so you'll meet fascinating new people. One of them might even be integral in helping to support one of your greatest wishes! Over the next two weeks be sure to network and express your individuality. There's most definitely a reward in store!
Watch your Insightful Astrology Weekly Video Horoscope now »