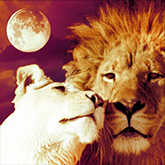 Weekly Astrology: Feb. 9-15, 2014
Cuddle up to the Full Moon in Leo on Valentine's Day

Early in the week the universe will demand that you "slow your role" and pay attention to important work you must take seriously. The good news, however, is that by the weekend you can fully expect to savor delicious romantic energy. Just in time for Valentine's Day!
Get more personal advice about life and love with a Horoscope Tarot reading, and here's the lowdown on the key cosmic events the week of Feb. 9-15, 2014.
Tuesday, Feb. 11: Sun in Aquarius square Saturn in Scorpio
But first, let's talk about Tuesday and Wednesday. On Tuesday, the Sun in Aquarius will be at a tense angle to Saturn, the planet of restriction and limitation. Saturn rules authority and discipline, but when he's at a stressful angle to another planet he also tends to act like a boa constrictor, making it feel almost impossible for the other planet to breath. With Saturn weighing down on the Sun, you may feel as if your basic vitality is slumped.
Not only will you feel drained, but an authority figure might make matters worse, demanding that you take on a responsibility that you wish you didn't need to. This will be most difficult for the Fixed signs (Taurus, Leo, Scorpio and Aquarius).
Wednesday, Feb. 12: Mercury Retrograde in Aquarius
What makes things more aggravating is that Mercury Retrograde will enter Aquarius on Wednesday. This brings even more problems to the Fixed signs. Communicating with clarity may be a problem, and it might feel as if you're getting nowhere, no matter how hard you work. Try to keep things in perspective -- this will not last forever.
Friday, Feb. 14: Full Moon in Leo and Sun in Aquarius trine Mars in Libra
By Friday, a dazzling Full Moon in amorous Leo will set the perfect scene for Valentine's Day romance. Hearts, flowers and dating pleasures are Leo's specialty. Because he hosts a Full Moon on the most romantic day of the year, you can rest assured that if you've got a sweetheart, he or she will make you feel extra fulfilled in matters of the heart.
A sexy trine between the Sun and Mars will also lift away all that Saturn weight you dealt with earlier in the week. Bonus: Your sex life will receive a fabulous boost as well!
Get more personal advice about life and love with a Horoscope Tarot reading »