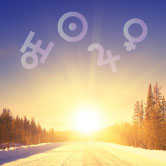 Weekly Astrology: January 11-17, 2016
Nothing but sunshine

This week you'll feel like the stars are definitely on your side! See how you can make the most of it here...
Tuesday, January 12: Venus trine Uranus
On Tuesday Venus will trine Uranus, offering delicious excitement in matters of the heart. You might decide to do something out of the ordinary with your lover and if so, you'll both be VERY happy that you slipped out of your comfort zones. If single, this will be the kind of day where you can instantly meet someone who takes your breath away. Love at first sight is possible!
Wednesday, January 13: Sun trine Jupiter
Things get even sweeter on Wednesday when the Sun makes a perfect trine to Jupiter. All good things are called for when the Sun and Jupiter are happy together. This means good vibes, opportunity, and even financial windfalls are possible! In fact, between Venus trine Uranus and the Sun trine Jupiter, it's quite likely that you'll enjoy a financial boost this week.
Jupiter is the luckiest planet of all! See how he impacts YOUR life and find out your luckiest dates with a personalized Jupiter's Promises Report.
Thursday, January 14: Sun conjunct Mercury; Mercury trine Jupiter
On Thursday, the Sun will conjunct Mercury Retrograde. This will allow you to reflect on a situation that's affecting your life without trying to sweep it under the rug. While you may not solve the entire problem this week, you'll surely begin to feel as if there is a light at the end of the tunnel. Mercury will also trine Jupiter, ensuring that your old ideas deserve reconsideration. After all, they're brilliant!
Watch your sign's Weekly Horoscope Video for more insight into the week...