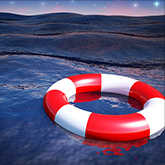 Weekly Astrology: Jan. 12-18, 2014
Keep yourself afloat in this week's sea of emotion

This week we're going back ... back in time. Back to your past experiences with love and money, and all that juicy self-worth stuff Venus Retrograde promises to bring up.
Get more personal advice about life and love with a Horoscope Tarot reading, and here's the lowdown on the key cosmic events the week of Jan. 12-18, 2014.
Wednesday, Jan. 15: Full Moon in Cancer
On Wednesday, a Full Moon in Cancer may open up the door of sentimentality. You're likely to focus more on what keeps you safe and warm, and what makes you feel most at home in this crazy world. Whatever it is that tugs at your security blanket and threatens to remove it, is what will lead you to react with the greatest emotional intensity. At the same time, you'll have an opportunity for emotional illumination regarding whatever situation pulls on your heartstrings the most.
Spend time with family or at home cozying up with a loved one. Consider the comfort foods that make you feel as if everything will be OK, and allow yourself to indulge in them. And if you're not nurturing yourself these days, you can expect this Full Moon to smack you upside your head, and demand that you remember to put your own oxygen mask on first. If not, you'll have nothing left to offer anyone else.
Thursday, Jan. 16: Venus Retrograde in Capricorn square Mars in Libra
On Thursday, Venus Retrograde will square off with Mars, and love will not be all peaches and cream. In fact, if there's an argument you and your lover have been trying to dance around, it's possible your luck will now run out. It's time to tussle.
Friday, Jan. 17: Mercury in Aquarius sextile Uranus in Aries
By Friday, however, you'll at least have the ability to talk your way out of any dilemma. Mercury will be at a friendly angle to Uranus, and thinking outside the box will be your ticket to a stress-free weekend.