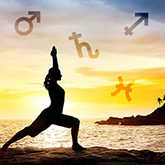 Weekly Astrology: January 12-18, 2015
It's time to awaken your spiritual warrior

It's a week of energy shifts and mental breakthroughs. Read on to see how you can best navigate the twists and turns behind this week's cosmic movement, and see what's going to happen in your near future with a Timeline Tarot reading.
Monday, Jan. 12: Mars in Pisces
On Monday, action planet Mars enters intuitive, dreamy Pisces. Until February 19, you'll get what you want by displaying and cultivating the spiritual warrior within. Fighting with your fists won't get you anywhere during Mars in Pisces, but fighting with compassion and purpose will. If you have any ideal to advocate for, or if you're the underdog in a battle you are truly meant to win, now you'll have an edge.
Tuesday, Jan. 13: Venus in Aquarius sextile Uranus
On Tuesday, Venus and Uranus will link up in an ultra-sexy way. You and someone special may enjoy the most unexpected romantic adventure. If single, you may suddenly meet a new love interest. Air and Fire signs benefit most from this electrifying combination!
Wednesday, Jan. 14: Mercury in Aquarius sextile Uranus
On Wednesday, Mercury in Aquarius and Uranus will be at a friendly angle, and brilliant ideas will fly everywhere. If you have a stroke of pure genius, be sure to write it down or flesh out your idea before it passes you by.
Thursday, Jan. 15: Mars in Pisces square Saturn in Sagittarius
Then, on Thursday, Mars in Pisces will square off with Saturn in Sagittarius. It'll be difficult to move anything on this day. Mounting frustration or significant resistance might leave you tempted to abandon your goals altogether. Don't give in. Push through. If you believe in yourself you will prevail.
See what's going to happen in your near future with a Timeline Tarot reading now »