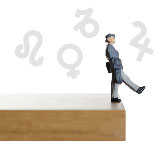 Weekly Astrology: January 18-24, 2016
Going too far

The week begins with exorbitance, but ends with temperance. Are you ready for all the ups and downs? See here...
Monday, January 18: Venus square Jupiter; Mars trine Neptune
On Monday, Venus will square Jupiter, which can easily turn into too much of a good thing. Yes, Venus and Jupiter are known as the two benefic planets in the zodiac, so when they are together in a harsh square, you don't expect too many problems. But that is, in fact, the problem. You might easily overdo it financially or in another area of your life. Be aware! Mars also trines Neptune on this day, which will help you work on one of your great dreams in a tangible way.
Get custom insight for this week with a personalized Tarot reading now!
Wednesday, January 20: Sun enters Aquarius; Mercury square Uranus
On Wednesday, the Sun enters innovative Aquarius, inspiring everyone to "get their geek on!" Unfortunately, Mercury will square Uranus (the ruler of Aquarius) on the same day making it difficult for others to decipher or support your brilliant ideas.
Friday, January 22: Mercury conjunct Pluto
With Mercury conjunct Pluto on Friday, you may only feel tempted to push even harder until you get your point across to someone. Be careful; a mental explosion is possible!
Saturday, January 23: Full Moon in Leo; Venus enters Capricorn
Saturday's Full Moon in Leo should be filled with romance and pleasure, but the fact that Venus enters sober Capricorn on the same day will tone it down a few notches. Sure you'll still have fun, but with Venus in Capricorn, there needs to be a point to all the pleasure. Don't worry; you'll find it.
Get more insight for this week with a Celtic Cross Tarot reading »
Watch your sign's Weekly Horoscope Video for more insight into the week...