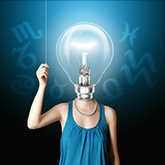 Weekly Astrology: Jan. 19-25, 2014
Practice mind over matter this week

This week will certainly start off with a jolt of energy, and it'll last until Saturday, thankfully. What happens after that all depends on how you choose to use your mind: for focus or to dwell on pessimism?
See what's going to happen in your near future with a Timeline Tarot reading, and here's the lowdown on the key cosmic events the week of Jan. 19-25, 2014.
Sunday, Jan. 19: Sun in Aquarius
On Sunday, the Sun will enter Aquarius, infusing all of us with the ability to show our most unique, even zany side. Aquarius is the sign of the humanitarian, so it's possible you'll decide to focus more on a cause that will benefit your fellow man now. You might also show more of an interest now in politics, technology or the sciences. You can also expect your social life to pick up, thanks to this sign's association with groups, friends and organizations. Attend a meeting, party or other social event. Sharpen your networking skills and see where they take you! Last but not least, with a light shining on Aquarius energy it'll be easier than ever for you to move light years ahead of the crowd with your visionary ideas. Be inventive. Be original. Be you.
Friday, Jan. 24: Mercury trine Mars
On Friday, Mercury in Aquarius will make a brilliant link to Mars, the planet of action and energy. With Mercury and Mars on the same page, your mind might run a thousand miles a minute, and it'll be difficult to quiet that voice inside your head. Fortunately, your ability to take these ideas and actually do something with them will be unparalleled. Expect plenty of courage to speak your mind and defend what you believe in. It goes without saying that this would be an incredible day for a debate, interrogation (if you're on the giving end), and also to research or discuss a topic that requires plenty of mental muscle. You'll have it in spades!
Saturday, Jan. 25: Mercury square Saturn
On Saturday, however, there will be a stark change in the air, as Mercury will move to a square with Saturn, the planet of limitation and structure. Suddenly, it may appear as if your mind has slowed down to a snail's pace. You might feel as if someone in a position of authority isn't supporting your plans, or you might simply need to address a bout of stinkin' thinkin'. Don't let it get the best of you. If you choose to concentrate and work through this aspect, you'll have a solid communications piece or idea built. And you can be certain it'll stand the test of time.
See what's going to happen in your near future with a Timeline Tarot reading now »