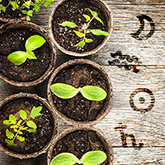 Weekly Astrology: January 19-25, 2015
Plant your seeds now and wait for them to grow

Nurturing your dreams and cultivating your visions -- and then revising them -- will be the theme this week.
Find out what this means and see what's in store for you personally with a Weekly Forecast Tarot reading, and here's the lowdown on the key cosmic events the week of Jan. 19-25, 2015.
Monday, Jan. 19: Venus in Aquarius opposite Jupiter in Leo and Mars conjunct Neptune
On Monday, Venus in Aquarius will oppose Jupiter in Leo, and you may feel the need to indulge in love, life, and whatever gives you pleasure. Go ahead -- within reason, of course!
Mars will also be conjunct Neptune on this day, giving power to your faith and compassion. Use it well.
Tuesday, Jan. 20 and Wednesday, Jan. 21: New Moon in Aquarius and Mercury Retrograde in Aquarius
On Tuesday, a New Moon in Aquarius will be your perfect opportunity to plant seeds over the next couple of weeks that will help manifest one of your greatest hopes or dreams. What's interesting is that the very next day Mercury will turn retrograde in Aquarius, remaining so until February 11.
What does this suggest? That dream of yours is possible to achieve, but it'll take some rethinking before you get there. Don't be afraid to revamp your approach with Mercury Retrograde in Aquarius, because there's every indication that the best way to reach your latest destination is by retracing your steps in order to ensure you haven't missed a better road or important signpost.
Friday, Jan. 23: Sun in Aquarius sextile Saturn
On Friday, the Sun in Aquarius will be at a supportive sextile to Saturn, and you'll have the ability to pursue your goals and shine in any area that involves the benefit of mankind.
See what's in store for you personally with a Weekly Forecast Tarot reading now »