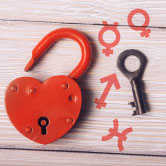 Weekly Astrology: January 2 - 8, 2017
Matters of the head and heart

Things get off to a great start this week thanks to cosmic energy that gives a boost to your love life. You'll also have the opportunity look at an old belief in a new way. Are you ready for what's unfolding this week?
Start the year off right with guidance from a New Beginnings Mandala Tarot reading!
Tuesday, January 3: Venus enters Pisces; Mercury sextile Venus
Venus enters dreamy, imaginative Pisces on Tuesday where she'll remain until February 3. Love is all about that soul mate and spiritual connection now. Namaste your way into someone's heart. On the same day, Mercury (still retrograde) will sextile Venus allowing unresolved conversations about love from the past to finally make sense.
Wednesday, January 4: Mercury enters Sagittarius
Then, on Wednesday, Mercury briefly retrogrades into Sagittarius before turning direct on Sunday. For the last few days of the retrograde you might rethink your philosophy on an important matter.
Saturday, January 7: Sun conjunct Pluto
On Saturday, the Sun will be conjunct Pluto in Capricorn. You'll either have the power to make an intense business decision, or feel overwhelmed by someone who has more clout than you.
Sunday, January 8: Mercury Direct
Mercury turns direct on Sunday. After that, everything becomes clearer.
Start your New Beginnings Mandala Tarot reading now for more guidance »