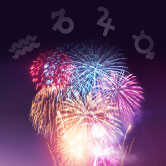 Weekly Astrology: January 4-10, 2016
The year starts with a bang!

This will be a week of communication chaos! Here is the run down so you can make it through...
Tuesday, January 5: Mercury square Mars; Mercury Retrograde in Aquarius; Venus square Neptune; Sun conjunct Pluto
Mercury turns retrograde in Aquarius on Tuesday, and at the same time will square off with Mars, prompting angry and regrettable words if you're not careful. The Sun conjunct Pluto on the same day might leave you feeling power hungry as well, while Venus square Neptune may cause you to turn a blind eye to a lover's flaw.
Gain the clarity you need during this busy and confusing week with insight from a classic Celtic Cross Tarot Reading.
Thursday, January 7: Sun square Uranus; Jupiter Retrograde
Then on Thursday, the Sun will square Uranus, bringing out the reckless rebel in everyone. However, be careful not to go overboard in your innovative zeal! Jupiter turns retrograde the same day. While this won't erase Jupiter's blessings, it will prompt us to look within more and re-evaluate what we truly believe in.
Friday, January 8: Mercury Retrogrades into Capricorn; Venus conjunct Saturn
On Friday, Mercury retrogrades back into Capricorn, where he'll remain retrograde until January 25. It'll be time to revise your goals and overall approach to a business endeavor. With Venus conjunct Saturn on the same day, you'll certainly take a sober approach to finances and your love life as well.
Saturday, January 9: New Moon in Capricorn
Then on Saturday, a New Moon in Capricorn suggests a lovely opportunity to plant seeds. This is when you want to make your New Year's resolutions, folks. The power of Capricorn will help you work hard to achieve them!
Find greater awareness at this time with a Celtic Cross Tarot Reading »
Watch your sign's Weekly Horoscope Video for more insight into the week...