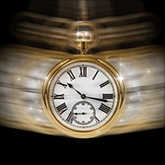 Weekly Astrology: Jan. 5-11, 2014
Look back, but move forward

This week we're going back ... back in time. Back to your past experiences with love and money, and all that juicy self-worth stuff Venus Retrograde promises to bring up.
Get more advice for making the right moves with a personal Luck & Intuition Astrology Report, and here's the lowdown on the key cosmic events the week of Jan. 5-11, 2014.
Monday, Jan. 6: Mercury in Capricorn sextile Saturn in Scorpio
On Monday, when Mercury in Capricornconnects to Saturn, you'll have a straightforward ability to communicate your most practical ideas in a way that commands attention. Use this day to forge an agreement or make a decision that involves executing a pragmatic approach in order to grasp a personal goal. Your rock-solid realism and indisputable authority on your area of expertise will impress any VIP.
Tuesday, Jan. 7: Mercury conjunct Venus Retrograde
On Tuesday, when Mercury connects to Venus Retrograde in Capricorn, it's possible you'll reconsider an old plan for earning income or a decision from your past regarding love. By the time Venus embraces Saturn and the Sun on Saturday, you might be ready to take your thoughts on money and/or love to a new level. Security is the name of the game, and that will certainly be highlighted for you as you make this revision in a Venus-ruled matter.
Wednesday, Jan. 8: Mars in Libra square Jupiter in Cancer
Going back to Wednesday, Mars will square off with Jupiter, providing just enough dynamism to take inspired action -- especially as it relates to a relationship or domestic matter. Just remember not to jump off of any symbolic airplane without fastening your parachute first!
Saturday, Jan. 11: Mercury in Aquarius, Venus Retrograde sextile Saturn, Sun conjunct Venus
Finally, when Mercury enters Aquarius on Saturday, you'll have the ability to think, speak and talk like a geek. Even if you aren't the nerdalicious type, there's every indication you'll have at least one brilliant idea to share. Speak up!
Get personal advice to make the right moves with a Luck & Intuition Astrology Report »