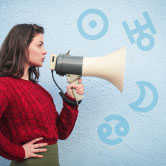 Weekly Astrology: January 9-15, 2017
Full steam ahead

The planets are cooking up the possibility for personal breakthroughs this week! Read on to discover what this cosmic push could mean for you...
Tuesday, January 10: Sun square Uranus
The week starts off with revolution -- or chaos. Most likely, a little bit of both thanks to the Sun squaring off with Uranus. This will stir the rebellion out of us, but it may also help us get out of a rut we've been in. Either way, handle with care.
Wednesday, January 11: Mars sextile Pluto; Sun square Jupiter
Then, on Wednesday Mars will sextile Pluto while the Sun will square Jupiter. You might promise more than you can deliver but luckily, you won't give up until you pull through.
Thursday, January 12: Full Moon in Cancer; Mercury enters Capricorn; Venus conjunct Neptune
Things may fall apart on Thursday thanks to a very cranky Full Moon in Cancer. Emotions are on overdrive for everyone, and you can expect at least one moody encounter with someone you love.
Mercury also enters Capricorn on the same day where he'll remain until February 7. Communication will begin to focus on goals again, but this time you'll actually begin to get somewhere with your thoughts. Finally, Venus will conjunct Neptune, helping to soften the emotional edges on this Full Moon day with a strong dose of compassion and unconditional love.
Center yourself during this emotional week with a Self-Healing Tarot reading now »