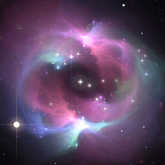 This Week's Astrology: A Cosmic Hangover
Your weekly Astrology highlights for July 10-16, 2017

This week it might feel like you're still recovering from Sunday's cranky Full Moon in Capricorn. Read on to reveal how you can shake off any lingering negativity and move forward...
Overcome the challenges and negativity you're facing with insight from a Self-Healing Potentials Tarot Reading.
Monday, July 10: Sun opposite Pluto
The reverberations from the Full Moon in Capricorn are certainly in the air on Monday as the Sun opposes Pluto. Manipulation, control, and subterfuge are all possibilities in your professional world. You might initially think that if you can't beat them you should join them, but this is not the right approach. Rise above the shadowy expression if you want to gain true power.
Friday, July 14: Mercury sextile Jupiter
Mercury will sextile Jupiter on Friday, making it a 5-star day for conversations, decisions, contracts, speaking engagements, presentations, or media appearances. Work it!