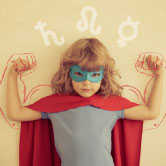 Weekly Astrology: July 13 - 19, 2015
It's anything but smooth this week!

Break out the big guns because while family matters may shine for you this week, communication will be dicey in the romance department! It's not going to be pretty. Read all about it!
Find personal guidance for your week now with an interactive Weekly Forecast Tarot reading.
Monday, July 13: Mercury trine Neptune
On Monday, Mercury will trine Neptune and you may think you're starting the week off in a way that is too good to be true...
Tuesday, July 14: Venus in Leo square Saturn
Enjoy the dreamy mental state while you have it because by Tuesday, Venus will square off with Saturn and you might feel an extraordinary level of tension between you and your partner. You're not feeling the love for some reason, and it's quite possible that your mate simply doesn't have the ability to give you what you want right now.
Wednesday, July 15: New Moon in Cancer; Mars opposite Pluto; Mercury opposite Pluto
On Wednesday, a New Moon in Cancer does suggest a glorious opportunity for a fresh start in a domestic or real estate matter. You may hear news from a relative during this time but if so, your reaction will be unpredictable. That's because Mars and Mercury will also oppose Pluto on this day.
Thursday, July 16: Mercury conjunct Mars
On Thursday, Mercury will conjunct Mars. You might feel as if you have to fight and argue with all of your might in order to turn the page on a family situation. Or, it's possible that the new beginning in your family life has to do with clearing the air with one of your relatives. It might pinch just a little more than you'd like, but family is worth it.
Saturday, July 18: Venus enters Virgo
Finally on Saturday, Venus enters Virgo -- but next week she'll turn retrograde. Now it's time to re-assess the value of a relationship. Is it productive in your life or does it set up a feeling of you doing all the work and sacrifice without any reward? You might begin to second guess whether or not a potential relationship is ever going to be what you want it to be. Perhaps there's a lesson about accepting less-than-perfect conditions. Love is messy -- but worth it.
Now get personal insight for the week ahead with a Weekly Forecast Tarot reading!