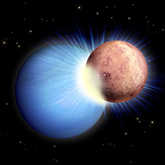 Weekly Astrology: July 20-26, 2014
Damn that planetary traffic jam!

Planets are colliding every which way this week! Retrograde, direct, ingresses and lunations -- oh my!
See what's in store for you personally with a Weekly Forecast Tarot reading, and here's the lowdown on the key cosmic events the week of July 20-26, 2014.
Sunday, July 20: Saturn Direct in Scorpio
On Sunday, Saturn turns direct in Scorpio after having been retrograde for several months. You can expect forward movement in professional matters now, as Saturn is naturally connected to business and career.
Monday, July 21: Uranus Retrograde
Then, on Monday, Uranus turns retrograde and will remain in this phase for several months. During this time you may notice your urge for freedom and individuation pressing you to make a change. Ready or not, here it comes!
Tuesday, July 22: Mercury in Cancer opposite Pluto in Capricorn; Sun in Leo
On Tuesday, Mercury in Cancer will oppose Pluto, reinforcing the mantra "knowledge is power." Indeed, you may discover potent information on this day that has deep ramifications in a domestic or career matter. Also on Tuesday, the Sun will enter Leo, allowing all of us to shine a bright light on the pursuit of pleasure.
Thursday, July 24: Venus in Cancer trine Neptune; Sun conjunct Jupiter; Mercury in Cancer square Uranus; Mercury trine Saturn
On Thursday, it might feel like there's a planetary traffic jam. First, Venus in Cancer will trine Neptune, allowing unconditional love to flow. The Sun will also conjunct Jupiter, opening the door for a lucky break in a creative endeavor, your love life or relationship with a child.
On this day, Mercury in Cancer will also go from squaring Uranus to trining Saturn. If you put your foot in your mouth, you'll definitely be able to "save" yourself from any communication fail.
Friday, July 25: Mars enters Scorpio (Until 9/13)
On Friday, Mars will enter Scorpio, where he remains until September 13. This once-in-two-year transit will set the stage for you to connect with the depths of your personal power. Will and determination will be strong, and once you decide to do something, nothing -- and no one -- will steer you off course.
Saturday, July 26: New Moon in Leo
Last but not least, on Saturday there will be a delightful New Moon in Leo that is doubly-blessed, thanks to Jupiter also being in the same sign. Expect a fresh start in romance or your creative drive. Cultivate a new hobby and live life through the eyes of a child. Carefree is where you're meant to be!
See what's in store for you personally with a Weekly Forecast Tarot reading now »