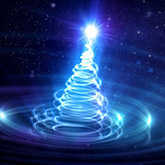 Weekly Astrology: July 22-28, 2013
This week feels like Christmas in July!

When there's this much happening in the sky, you know it'll be an eventful week. Planetary alignments are happening every which way you turn, and each of them has something unique to say.
See what's in store for you personally with a 30-Day Astrology Forecast, and here's the lowdown on the key cosmic events the week of July 22-28, 2013.
Monday, July 22: Full Moon in Aquarius
On Monday, a Full Moon in Aquarius will help illuminate the crackerjack innovator inside of you. It's time to showcase that which makes you unique. There might be an emotional emphasis now on friends, group projects or a humanitarian endeavor.
Technological developments in your life might reach a climax, whether it's the launch of a website or social media page. There might be an emotionally-charged situation between you and a pal that can no longer be ignored. Where is your place in society? This question might suddenly become more important.
Monday, July 22: Mars conjunct Jupiter
Also on Monday, Mars in Cancer will connect with Jupiter -- a once in two-year phenomenon. This conjunction will help to energize and expand Jupiter's blessings for you, as well as offer motivation to reach for something big. Yes, folks, this is inspired action at its best.
Monday, July 22: Venus enters Virgo
Venus, the planet of love and harmony, will enter perfectionistic Virgo on Monday, as well, changing the romantic landscape from Leo largesse to a giant ball of humility.
With Venus in Virgo, romance will become more subdued, with a focus on service and practicality. Expect caution rather than reckless behavior when it comes to love and money matters.
Fortunately, Venus will receive mostly kind aspects while it tours Virgo this time around, and Earth and Water signs will have a lovely Venusian edge until August 16.
Monday, July 22: Sun enters Leo
The Sun will also enter Leo on Monday, reminding us not to put our party hats away just yet. In fact, we're about to enter the very best of the summer. The Sun in Leo is your time to shine!
Friday, July 26: Venus opposite Neptune and sextile Saturn
By Friday, we'll be ready to focus on love. Venus will oppose Neptune, which is usually an aspect that gives off a mystical or just plain misty vibe when it comes to romance. Yes, this is the spiritual love aspect, filled with soul mate potential. And yes, in certain cases love can turn out to be a grand illusion.
But this time around, something else might happen. Practical Virgo might enjoy having her sharp, discerning edge softened up enough to actually let love in. You'll still see what's not perfect in your partner or romantic situation, but somehow you won't mind as much.
You might even decide that you can love someone with even more of a commitment because of what's not ideal. That's because on the very same day Venus will be at a gorgeous sextile to Saturn, stabilizing love potential.
Saturday, July 27: Mars opposite Pluto
On Saturday, Mars will oppose Pluto and your ambition will surely be aroused. Competition on this day in any form, whether for business, sports or beating a personal record, will likely help to keep you fueled. Just remember not to turn into a ruthless maniac as you strive to achieve a goal.
Saturday, July 27: Sun square Saturn
Also on Saturday, the Sun will square off with Saturn. This might help you remain disciplined as you focus on that major goal. You might develop a sound strategy that puts you in an unstoppable position.
Of course, if you're not focusing in the right direction it's also possible that an authority figure will simply try to put the kibosh on whatever it is you're working on. That will not go over well.
Sunday, July 28: Venus sextile Jupiter
Thankfully, the week will end on a positive note, thanks to a brilliant sextile between Venus and Jupiter. Love, money, luck, faith and a positive attitude will be everywhere you turn. That's right, it's Christmas in July!
Watch your Insightful Astrology Weekly Video Horoscope now »