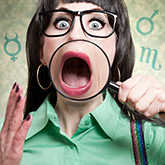 Weekly Astrology: July 27 to August 2, 2014
Close-up on communication!

Venus and Mercury are making a lot of noise this week! Read on to discover how you'll fare in communication, money and love matters.
Monday, July 28: Venus opposite Pluto
On Monday, Venus in Cancer will oppose Pluto, and you can count on your love life being anything but boring. You may feel extra possessive of your sweetie, and if that's the case it'll be a good time to examine why this is so. Is there a reason for the extra insecurity, or are you simply being paranoid?
See what's in store for you personally during this time with a Horoscope Tarot reading!
Thursday, July 31: Mercury in Leo and Venus square Uranus
Late Thursday night, Venus will square off with Uranus, so it's possible you'll make a rash decision about your relationship. Go for excitement, but don't do anything you'll regret in the morning.
Also on Thursday, communication planet Mercury enters Leo, where he'll stay until August 15. You'll find it easy to flesh out creative ideas and your mind will focus intently on one area: FUN! This will be a great time to plan a party or other form of entertainment that requires forethought.
Friday, August 1: Venus trine Saturn; Mars in Scorpio square Jupiter
On Friday, Venus will trine Saturn, and your love life will be back on track. It'll also be a favorable day to make a move in real estate or stock investments. Call your financial advisor. Mars in Scorpio will square off with Jupiter in Leo on this day, however, so be sure that any moves you make with your money are not risky ones!
Saturday, August 2: Mercury conjunct Jupiter; Mercury square Mars in Scorpio
By Saturday, Mercury will go from a conjunction with Jupiter to a square with Mars. This suggests that your larger-than-life ideas and potential big mouth may get you into trouble. Don't make a grand promise you can't keep and avoid telling tall tales.