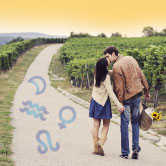 Weekly Astrology: July 27 - Aug. 2, 2015
All about others

There's a great deal of focus on your love and social life this week! Read all about it...
Friday, July 31: Full Blue Moon in Aquarius; Venus Retrograde into Leo
On Friday, a Full Blue Moon in Aquarius (the second Full Moon in July) will make you keenly aware of your place in society and whether or not you are contributing to mankind, or simply going through the motions in life. If you are involved in a humanitarian endeavor, this might be a rewarding time where you see the fruits of your effort. It's also possible that a friendship you have with someone will take a turn. Emotions may be on edge even though no one necessarily wants to "feel" their feelings.
On the same day, Venus retrogrades out of Virgo and into Leo where it will remain until turning direct on September 6. You will have plenty of time now to re-evaluate whether or not a relationship truly makes your heart sing. The joy factor in your love life is up for review, as well as how much you're capable of opening your heart. If you are holding back, this will be a great time to figure out the reason behind it.
Get advice for your love concerns with a FREE Love I Ching reading now!
Sunday, August 2: Saturn Direct in Scorpio; Mercury in Leo trine Uranus
On Sunday, Saturn will turn direct in Scorpio and help you integrate lessons of depth and intimacy once and for all. Mercury will also trine Uranus, allowing an innovative idea to flow. Allow your genius to shine!