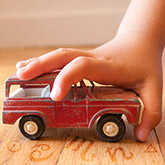 Weekly Astrology: July 6-12, 2014
Put down your toys and act like a grown-up!

The week begins with pleasure and ends with business. In between, there's a sprinkling of rebellion in the air.
Monday, July 7: Venus in Gemini sextile Uranus in Aries
On Monday, love planet Venus in Gemini will be at a friendly sextile to Uranus, the planet of surprises and innovation. This connection allows sparks to fly in an unusual way. You might meet a special someone who is off the beaten path, or you and your current flame might decide to indulge in something fun and experimental together. Single or attached, this link spells social excitement, so enjoy it while you can!
See what's in store for you personally with a Horoscope Tarot reading, and here's the lowdown on the key cosmic events the week of July 6-12, 2014.
Tuesday, July 8: Sun in Cancer square Uranus and Sun trine Saturn in Scorpio
On Tuesday, the Sun in Cancer will first square off with Uranus, and then it will move to trine Saturn. This will be the kind of day where you'll go from one end of the spectrum to the complete opposite. You may start out throwing a temper tantrum, wanting to free yourself from all of the rules and restrictions in your world. Soon enough, however, you'll realize that you need a certain amount of structure to succeed, and you'll decide to play the grown-up card.
Saturday, July 12: Full Moon in Capricorn
It's a good thing you're in work mode, because by Saturday there will be a Full Moon in Capricorn that assures hard work will be rewarded. You might be in the spotlight for a professional achievement or reach a career milestone. If so, you've earned it!
Get more personal advice about life and love with a Horoscope Tarot reading »