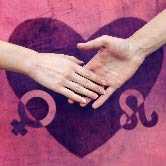 Weekly Astrology: June 1 - 7, 2015
Going above and beyond

It's a week to open your mind, your heart, and your faith! Things are happening on a grand scale now ... are you ready?
Tuesday, June 2: Full Moon in Sagittarius
Are you willing to ask the big questions in life, even if you don't find an answer? That's the theme of Tuesday's Full Moon in Sagittarius. Remember that in your life it's the journey that matters, not the destination. Still, your internal GPS might be slightly confused thanks to this Full Moon being square Neptune and opposite Mercury, now in retrograde. Old belief systems and modes of thinking are likely to come up for review, and it'll be time to discard what's no longer working in your reality.
Process this week's energy and how it can impact your future with a Timeline Tarot reading!
Friday, June 5: Venus enters Leo; Mars in Gemini sextile Jupiter
On Friday, love planet Venus enters Leo. Venus in Leo promises romance on a grand scale so now, you'll settle for nothing less than lavish expressions of love. Mars will be at a supportive sextile to Jupiter on the same day giving you the ability to put your optimism to work for you. This will definitely be a sexy day!
Saturday, June 6: Venus trine Saturn
On Saturday the tone goes from carefree romance to relationship substance. Venus will trine Saturn and if you're attached, you'll feel quite secure in your union. Financially, a cautious gamble looks like it'll pay off, and a creative gift put into practice can be financially profitable for a long time to come.
Get a Timeline Tarot reading now for more insight into what lies ahead »