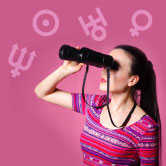 Weekly Astrology: June 13-19, 2016
Seeing clearly

Things are clearing up now, and the universe is incredibly supportive of creativity and invention this week!
Monday, June 13: Neptune Retrograde
Reading between the lines gets easier once Neptune turns retrograde on Monday. You might have a heightened intuitive awareness now, but it could not be so easy to trust it at first. Allow yourself time to meditate or just sit with your hunches and honor what is flowing through your mind.
Find guidance for your new endeavors during this week of innovation! Get a Mandala New Beginnings Tarot reading now.
Tuesday, June 14: Sun sextile Uranus
On Tuesday, the Sun and Uranus will make a beautiful link, opening up your original, creative self in the most magnificent way. Use this energy to shine a light on an inventive project you're working on. Or, make it a point to reinvent yourself in some way.
Friday, June 17: Venus enters Cancer; Saturn square Neptune
On Friday, Venus enters Cancer where she'll remain until July 12. Matters of the heart will have a sentimental, security-driven bent. You'll crave home comforts and will want to nest more with your sweetie and your clan.
Also on Friday, Saturn and Neptune will square off. It might be extra difficult to build a foundation around one of your highest ideals in order to make it happen. That doesn't mean you should give up, though. Unless, of course, you are being completely unrealistic.
Find greater advice for your goals and intentions with a Mandala New Beginnings Tarot reading »